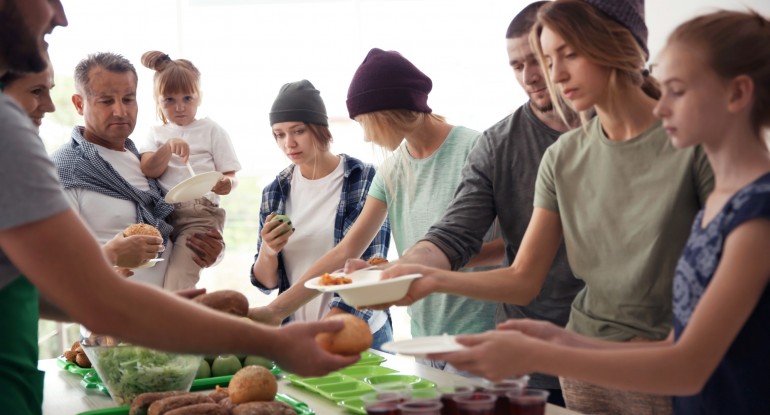 Homeless Link is delighted to announce that North East Homeless are among the first organisations awarded a grant through Social Investment Business within the Enterprise Development Programme.
The Enterprise Development Programme is a five-year £40m programme aimed at providing support for charities and social enterprises in England. The programme is funded by Access – The Foundation for Social Investment and is managed by a coalition of partners. As the lead partner for the homelessness sector, we worked closely with North East Homeless through the application process and helped them to access support for the development of their enterprise idea in the early stages and guidance around the grant process.
North East Homeless, North England
North East Homeless began in November 2016. They provide outreach sessions to prevent or relieve poverty anywhere in the North of England by offering material items such as food or clothing (but not exclusively), and practical support for issues relating to street life for vulnerable people. They also provide support to people who experience severe poverty and work with them to prevent homelessness. With the help of a strong reliable volunteering team they run three weekly outreach sessions in Sunderland and Newcastle. North East Homeless have expanded massively in the last two years and now feed and support around 240 people every week over the three outreach sessions.
North East Homeless were growing rapidly, but because they were a charity still in their infancy, they found it difficult to access extra funding through routes that are more traditional. As a result, they came up with a plan. Their main goal was to create a safe, comfortable place that's easily accessible for the increasing amount of people using their service, so they developed a plan to create a self-sustaining container village with open facilities. The village would be self-sustaining by having some spaces available for local businesses to rent and for community groups to hire so that they can provide the wider community with much needed clubs and activities. The village would also provide accommodation for people using the North East Homeless service.
North East Homeless were awarded a feasibility grant from Social Investment Business of £7,800 to develop their idea and have since hired local consultant to support them to develop the idea.
Talking about the process, Emma Burridge, Trustee of North East Homeless, said:
"We're excited to receive a feasibility award to test our idea. We need to find new ways of funding as our charity is expanding rapidly and we want to be sustainable so we can support as many people as we can. Social enterprise seemed a good route to do this.
"We worked with Sophie in Homeless Link's Enterprise Development team to put together our bid. It has been a really exciting and supportive process, talking ideas through, and getting feedback from people who have a national overview with an informed understanding of the homelessness sector has been invaluable. The funding process can sometimes be daunting and lonely
"Our next steps are to use the money and develop the project with this grant and then take it forward for social investment and funding. This project as a whole has been less daunting as each stage of the whole process has been a stepping-stone to get the project up and running, rather than it being something that felt out of reach. Through our plans we can make North East Homeless grow, and the people who use our services can know that we will be here into the future."