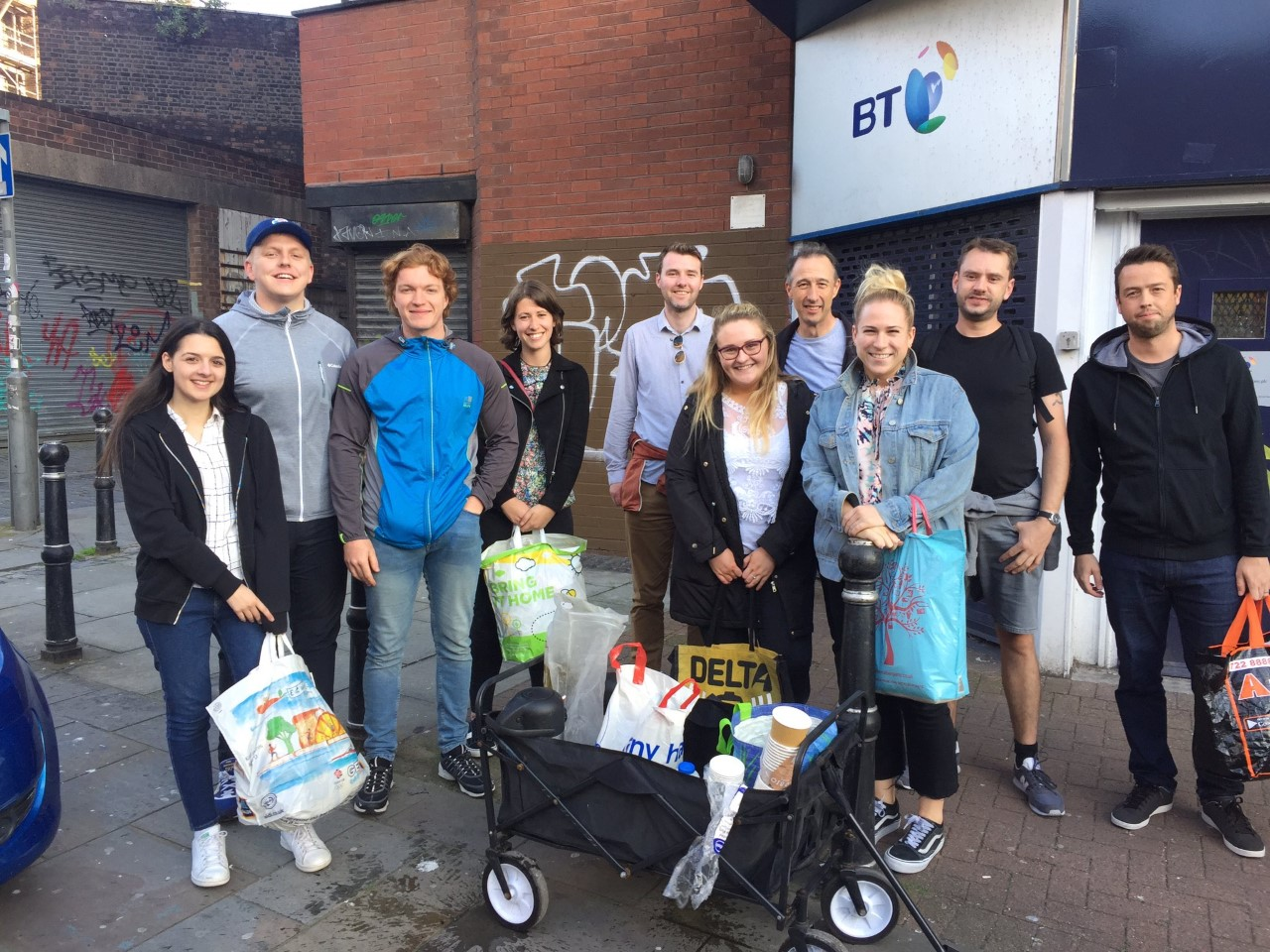 Paper Cup Project has been running for over four years, and we registered as a charity almost 18 months ago. We are a volunteer led charity, and we offer food, drink, clothing, toiletries and most importantly, support and signposting to rough sleepers and people experiencing homelessness across Liverpool, via our outreach. Our group also works hard to challenge stigmas around homelessness to discourage hate crimes.
Each week we help around 40 people, some need food and dry socks, others just need to have a chat, or to be linked up with the right services. We have also assisted several young runaways and helped them to get back to their families.
Our funding so far has been largely via supporter donations, and a small grant from the lottery. We are a small charity and are growing, thanks largely to the support and investment from EDP.
We are a well-respected charity in Liverpool, both with supporters and also the City Council. Our partners include local media, The Liverpool Echo and The Guide who have shared our stories, as well as various restaurants across Liverpool who have given us funding in kind by providing food.
Covid 19 has seen a change in the way we operate as a charity. Just two days before lockdown was announced in March, our team went out and referred the remaining rough sleepers into the emergency accommodation that was being provided by the council. We were involved with conversations with the local authority on what measures would be taken and we worked in tandem to get people inside. One man won't engage with services so we accommodated him at our own cost and dropped food each week. We also amended our outreach so that rather than going out as a group, individual members of the team have been going to hostels and temporary accommodation with supplies such as clothing and toiletries. This has continued and will do so for the foreseeable, until infection rates decrease and it is safer.
Our enterprise activity is a coffee shop – Paper Cup Coffee. We are in the planning stage, and have recently secured an offer of premises in the city centre. Our coffee shop will offer training opportunities and support to vulnerably housed people and those currently experiencing homelessness who have been recently accommodated during the pandemic. We are currently putting plans into place and thanks to EDP, now have a full-time staff member who can develop the project.
The project has only been in development since September, and it feels like within that time we have been able to achieve a lot! Originally, the council had offered to provide us with premises, but the conversations ground to a halt, and as time was pressing on, we were worried about the plans falling apart. We decided in September to announce in the press what our plans were. On the back of the announcement, we were offered premises at a great city centre location from a local business, which we accepted. We are now waiting to sign the lease, start decorating, recruiting and hope to open in January.
We received support from EDP in the form of a grant and business workshops, which has enabled us to meet other organisations from across the country who are doing incredible and inspiring work across the homelessness sector. The grant of £30,000 that we received was invaluable, and enabled us to use the money to partially fund the salary of a full time staff member. Previously, the work was being done alongside a full time job for another charity, which meant that activities were limited due to time restrictions. The funding has meant that we are able to dedicate the time needed to fully develop the enterprise, and to put all the building blocks in place.
The workshops and peer support have been a huge asset, and we have linked in with people who already run similar enterprises who can advise on what has worked for them and any mistakes they can share which we can learn from. It has also been a help with stockists – another peer runs a group of coffee shops in London, and is branching out into supplying beans, we are looking for a supplier for our shop so this is a perfect synergy. Without the EDP funding, there is no way we could have fully developed the coffee shop idea. We have been planning the enterprise for a year, but as there was no full time staff member to drive it on, it was very difficult, and taking a long time, Over the past two months, thanks to the funding, we have done so much, and are much further on than we would have been. We are a tiny charity, and it would have taken us a long time to be able to fund a full time member of staff without this funding.
I feel that the Enterprise Development Programme will have a lasting legacy on our charity long after the course has finished. It's a privilege to be part of such an incredible group of people who are working hard to tackle homelessness and also to provide social value for their surrounding communities. These links will carry on beyond the course, and I plan to visit all of their projects when it is allowed. The whole experience for our charity has been a once in a lifetime experience so far, with so many positive outcomes. Our mentor Murphy from Homeless Link is always on hand with her calm assurance when there are wobbles, and the people running the courses have been experts who we would never have had access to who have shared their valuable experiences. We can never thank EDP and Homeless Link enough, and we hope that when our enterprise launches that it will change lives and be a great example of the difference that this support has made.